Home

---
Garment Racks

Floor Racks

Rolling Racks

Arm Racks
---

Clothes Hangers

Mannequins

Body Forms
---
Slatwall

Slatwall Panels

Slatwall Hardware

Slatwall Fixtures
---
Gridwall

Gridwall Panels

Gridwall Hardware
---

Wall Fixtures
---

Display Tables
---

Shelves
---

Acrylic Displays
---

Wire Displays
---

Fixture Specials
---

Policies

Customer Service

Order
---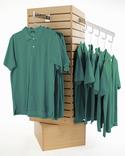 Now from
$155.32
More Fixtures
1) Collapsible Rolling Racks #01-010CH
2) Z Base Rolling Garment Racks #01-016BL
3) Spiral 29 Ball Garment Racks #08-006CH
4) 6" Chrome Slatwall Hooks #24-006CH
5) White Slatwall Panels #WMSW

Garment Racks, Store Fixtures and Displays!
Rolling Garment Racks and Clothing Racks
Our Garment racks, Clothing racks and Rolling racks are constructed of durable welded steel. We offer the same high quality commercial garment racks used in department stores worldwide. Most Clothing and Garment Racks are in stock, and ship within 24 hours for
Fast delivery!
from
$54.10 ea.
Rolling Garment Racks
Welded Steel Rack Frame
Collapses for Storage
Durable Chrome Finish
Heavy Duty 4" Wheels
More Rolling Racks
Slatwall Panels and 3-D Textured Slatwall Panels
Slatwall Panels from
$40.99 ea.
Slatwall Display Panels
Accepts Slatwall Accessories
4 ft high x 8 ft wide
3 inch spaced slots
More Slatwall
Textured 3-D Slatwall Panels New!
Exciting Slatwall Panels in Brick, Slate, Cement, Barnwood, Tile and Corrugated Metal! Deep textures and authentic colors give these 3-D Slatwall Panels an amazingly realistic look and feel!
Gridwall Panels, Bases and Displays
Body Forms & Headless Mannequins
Body Forms from
$8.99 ea.
Displays Hanging Clothing
Lightweight Design
Available in Black or White
Male, Female & Child Sizes
More Body Forms
Mannequins from
$131.09 ea.
Headless Mannequins
Mens & Womens Styles
Assorted Poses
Bright White Finish
More Mannequins
Acrylic Slatwall & Gridwall T-Shirt Displays
$14.98 ea.
Displays T-Shirt Designs
Durable Acrylic Construction
Includes Shirt Fold Board
Available for Slatwall Displays and Gridwall Displays
More Acrylic Displays
Display T Shirt logos and designs on slatwall or gridwall with our durable clear acrylic T-Shirt Displays. Each shirt display includes a removable T-Shirt folding board for quick and easy display of a folded shirt graphic!